Wetland Restoration and Enhancement
Healthy Headwaters Wetlands Initiative
Wetlands are one of the most diverse and productive ecosystems in Ontario, providing habitat for waterfowl and more than 600 species of plants, animals and insects, some of which are species at risk.
Benefits of Wetlands
Provide water storage
Improve water quality by acting as a natural filter for water running off of land that could otherwise carry pollution to our creeks, lakes, rivers, and drinking water;
Replenish our groundwater supplies from the recharge areas;
Reduce flooding and erosion by holding water, slowing down the heavy surface flows, and leading to less soil erosion;
Offer many recreational opportunities such as fishing, hunting, wildlife viewing, canoeing, or photography.
Throughout Southwestern Ontario, the highly productive agricultural landscape in pre-settlement times had more than 20 per cent wetland coverage. Today, at about two per cent wetland coverage, it is a priority to find and engage landowners interested in restoring wetlands.
Healthy Headwaters Wetlands Initiative is an opportunity for rural and non-rural landowners to preserve, restore, or enhance wetlands. Ausable Bayfield Conservation Authority (ABCA), Huron Stewardship Council (HSC), and Ducks Unlimited Canada (DUC) have formed a partnership to provide you with technical advice, including site visits, elevation surveys and project coordination to assist with the completion of your wetland restoration.
Wetland restoration and enhancement is a community effort which will benefit downstream areas of our watershed. These areas support species-at-risk mussels and fishes and their habitats; are near Provincially Significant Wetlands or expand other natural areas. Each individual wetland project is a step towards improving the water quality of our entire watershed.
Interested in a project on your property?
Eligible projects:
Enhance flood plain habitat

Flood plains, valley areas, wetlands, seasonal wetlands, oxbows and woodland swamps.
Enhancements using small, low-cost water impoundment structures


Wetland creation

Small impoundments – areas generally less than 25 acres in size created by restricting water flowing out of a naturally shallow, low-lying area.


Creating conservation buffers

Creation of small areas or strips of permanent vegetation, designed to control pollutants and manage other environmental concerns.


Livestock exclusion fencing

Includes fencing, low-water crossings and creating an alternative watering source.
See our Wetlands Projects page to see what your neighbours are doing in Middlesex, Huron, and Lambton counties.
Volunteer Wetland Monitoring Opportunities
Are you interested in undertaking some wetland monitoring? Ausable Bayfield Conservation is looking for community volunteers who are interested in learning more about amphibian species within the local watershed. Visit our staff contacts page. Contact avanniekerk(at)abca.on.ca if you're interested in learning more about our volunteer monitoring program.
To find out more:
Partners and Funding
The Healthy Headwaters Wetlands Initiative would not be possible without the generous support from many partner agencies and organizations. We would like to take this opportunity to thank each and every one of them.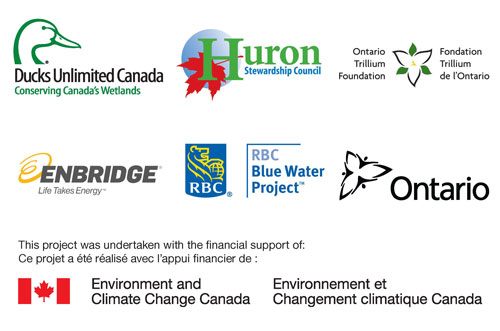 Updated: August 16, 2016